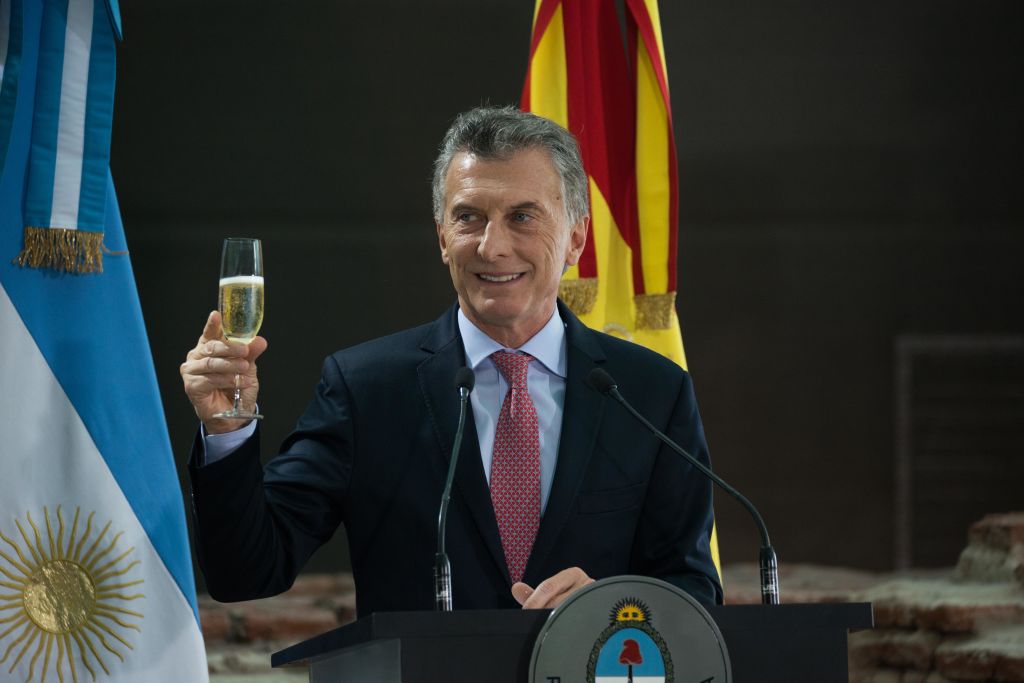 Encouraged by President Mauricio Macri's credentials as an economic reformer, many had hoped Argentina would turn the page on its costly history of economic mismanagement and, as Macri said, become a "normal country." Instead, the nation was back in the spotlight last week as it frantically tried to contain currency turmoil by raising interest rates to an eye-popping level in the context of destabilizing capital flows.
The turbulence is putting at risk much-needed economic reforms and is having some negative spillover effects on other emerging economies.
Why is this happening?
Central banks know they face serious policy challenges when they announce a surprise interest rate hike (in Argentina's case, 300 basis points on May 3) only to see the currency depreciate rather than appreciate as economic textbooks and logic would suggest. That is what happened in Argentina last week. This forced the central bank to take even more dramatic action on May 4 by increasing interest rates by another 675 basis points to 40 percent.
The loss of policy credibility is perhaps the simplest and most direct explanation for Argentina's predicament. Such deterioration is especially costly for already-vulnerable economies that, owing to a long history of policy flip-flops, slip rather too easily into trying to pursue too many objectives with too few instruments.
The central bank has inadvertently stumbled into a series of policy mishaps as it increasingly came under the influence of the fiscal authorities, and as its inflation target for 2018 was raised from 8-12 percent to 15 percent in the context of the failure to attain the 2017 objective. Along the way, it seems to have demonstrated only a partial understanding of some basic market dynamics.
A few weeks ago, Argentina found itself on the receiving end of generalized pressure on emerging markets as a whole due to rising global risk aversion and the largely unanticipated strengthening of the dollar. The central bank seemed to misread the situation and tried to resist significant external forces by relying on international reserves to massively intervene in the currency markets. Unsurprisingly, it was to no avail.
After it quickly depleted more than 10 percent of its reserves as both foreign and domestic investors took advantage of a golden opportunity to lower Argentine/emerging-markets exposure at relatively elevated prices, the central bank was forced into a U-turn. The currency plummeted to record lows against the dollar when both domestic and foreign investors sought to accelerate their exposure reduction. With such capital outflows adding to the financial dislocations, the central bank had little option but to hike rates even more aggressively.
Absent a default and currency repudiation, which is unlikely in the current situation, there is a combination of high interest rate and realized currency depreciation that makes further outflows very costly, stems them and attracts quick-responding portfolio inflows. Argentina is getting there and may be already there, assuming it avoids additional policy mismanagement. But the economic, financial and political damage will not reverse overnight.
The implications extend beyond Argentina, especially as 2017's unusual period of low global financial volatility and dollar weakness had attracted a lot of "tourist" investors into local emerging-market positioning, either through direct foreign-exchange exposures or indirectly through unhedged local bond exposure. With more hesitant flows to emerging markets recently, some of the other more vulnerable countries, such as Turkey, have already felt the negative spillover effects amplify the pressures faced by their currency and local bond markets.
The recent series of economic management missteps have forced Argentina into an unenviable race between the urgent need to re-establish policy credibility and the destabilizing effects of ultra-high interest rates on the economy, financial system and debtors. The longer it takes to win this race, the greater the risks to Macri's economic reform program and the greater the likelihood of recession, self-feeding vicious debt dynamics and additional financial turmoil with adverse spillovers to other vulnerable emerging economies. Fortunately, a chastised central bank is now getting some help from the Finance Ministry, which announced on May 4 that it would reduce the 2018 target for the primary fiscal deficit to 2.7 percent from 3.2 percent.
Assuming Argentina's very recent and more sobering course correction persists, emerging-markets investors now have a new prospect to consider: gaining exposure to extremely high-yielding peso-denominated instruments in the context of a currency that has probably depreciated beyond its equilibrium level. This would only be considered as an "opportunistic" investment by investors able and willing to underwrite significant volatility. At the right size and structured carefully, it would also be small relative to other emerging-market exposures that are underpinned by good policy management, sound growth prospects and strong balance sheets — a trifecta of objectives that Argentina must, once again, urgently pursue and meet.
To contact the editor responsible for this story:
Max Berley at mberley@bloomberg.net