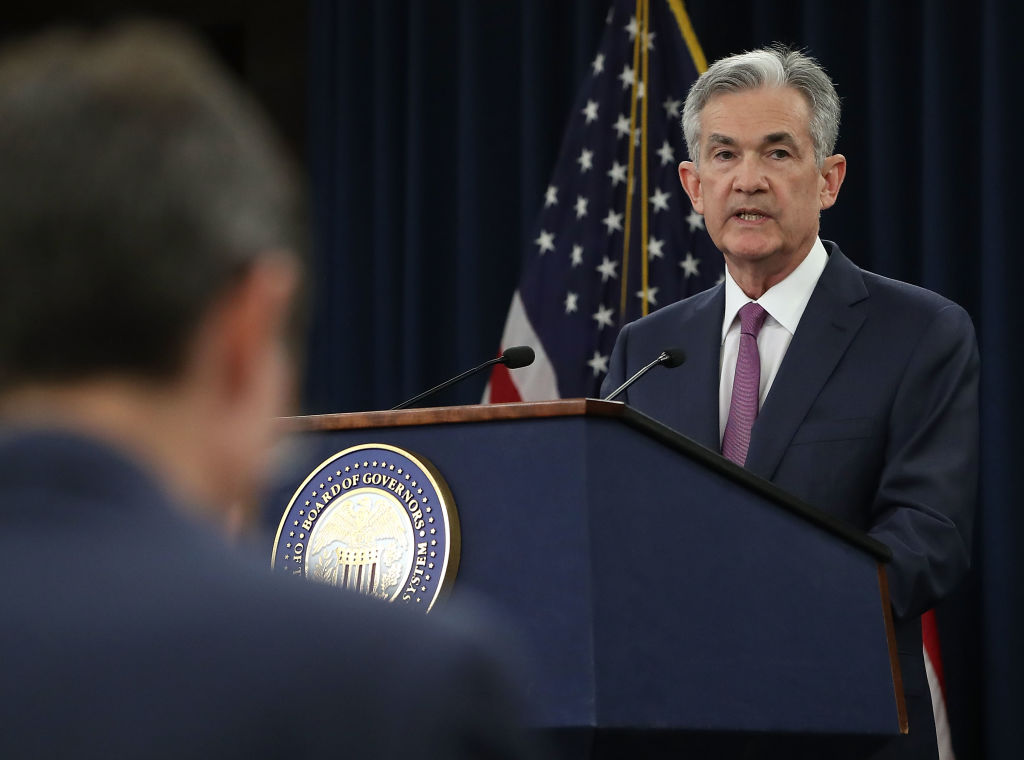 Federal Reserve Chair Jerome Powell put his mark on the central bank on Wednesday with a news conference that stood out for its openness and plain-spokenness.
In the past, Fed chiefs have typically met with reporters once a quarter, answering questions while seated behind a large wooden lectern, much like a judge presiding over a courtroom. Powell broke with tradition by standing behind a lectern and speaking in conversational language. In addition, he indicated that he would answer the press's questions after each of the Fed's eight policy meetings, rather than just four.
The Open Market Committee concluded its policy meeting for June by raising the federal funds rate to 2 percent, as had been widely anticipated. At the news conference that followed, Powell gave a smart, jargon-free presentation of the issues of concern to him and other policy makers. He said the Fed would be raising interest rates a little faster than expected, but added that no one should interpret the tweak as a sign the central bank's strategy had changed.
He then explained the bank's approach to its task of managing inflation. "Raising rates too slowly might raise the risk that monetary policy would need to tighten abruptly down the road in response to an unexpectedly sharp increase in inflation," he said. In that case, the Fed would be forced to raise rates suddenly. "Conversely, if we raise interest rates too rapidly," he added, "the economy could weaken and inflation could continue to run persistently below our objective."
Most importantly, Powell indicated that he wanted to conduct a public conversation about monetary policy. Until now, Fed chiefs have been less available or transparent. Former Chairman Alan Greenspan was dubbed "the Maestro" for his legendary ability to steer the economy with little input from others. 
At meetings, Greenspan spoke first and other policy makers were under heavy pressure to agree with him. He barely communicated with the public at all. "If I seem unduly clear to you, you must have misunderstood what I said," he told reporters in 1987.
His successor, Ben Bernanke, attempted to turn the Fed's board meetings into consensus-building exercises and sought to relay the evolving discussions to the public. He also initiated the quarterly news conferences.
Janet Yellen, who followed Bernanke, took approachability a step further, with question-and-answer sessions that often resembled the graduate seminars she once led as a professor of economics at the University of California at Berkeley.
Powell seems to be taking a distinctly different approach. His speeches are peppered with terms that are more commonly used by monetary policy bloggers and columnists than central bankers. Recently, these commentators have debated whether low labor force participation meant that the unemployment rate was sending false signals about the tightness of the labor market. That topic featured prominently in Powell's discussion of the current conditions. And the minutes from a meeting in 2012, when he was a board member, showed that he had referred to commentary in FT Alphaville, a popular blog.
All of this suggests that Powell, the first non-economist to lead the Fed in almost 40 years, is relying on both the popular press and academic literature to get a beat on the economy and to determine how best to steer the ship.
This approach is at once humble and insightful. Academics who have spent their careers delving into the finer points of monetary policy understand nuances that laypeople often miss. But journalists can make valuable contributions, too: In 2007, the press  raised the alarm about the potential for a huge financial crisis, long before the professors and Fed staff had picked up on the threat.
To contact the editor responsible for this story:
Max Berley at mberley@bloomberg.net